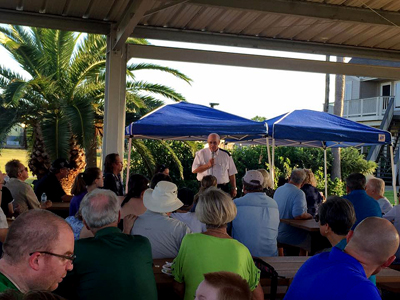 On Saturday, August 12th, Bill Sargent held his campaign kickoff at the Tiki Island pavilion.  It was well attended with over a hundred people from across the district present.
"Being your congressman is about service," Sargent said. "It's that plain and that simple…  Just like we did with Galveston County elections, I want to accomplish a number of things that so far just aren't getting done."
Sargent pointed to the lack of legislative progress on funding and building a coastal barrier system (an "Ike Dike") to protect the region from hurricane storm surge and the need to pass legislation that gives red snapper recreational fisherman long term relief from burdensome federal restrictions, as two of the issues he wants to focus on.
"You can introduce and cosponsor bills all day long," Sargent said, "but unless you have the determination and skill to get them considered and passed, you end up with nothing getting done!"
Sargent's resume shows extensive experience in the legislative area, both at the federal and state levels.  He worked for two Congressmen and a U.S. Senator before spending twenty-one years handling legislation for the U.S. Department of Commerce in Washington.  He has also been active in Austin, and was able to get all of Galveston County's election-related legislation enacted in the 2017 regular session and a substantial number of bills in the 2015 session.